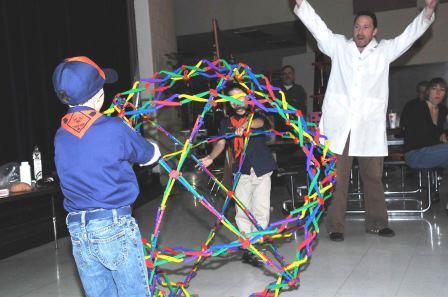 Science Demonstrations and educational entertainment for Brownies, Girl Scouts, Cub Scouts, Boy Scouts, Webelos and more!
Our hands-on science programs are designed to help Scouts of all ages meet the requirements to earn their Science Belt loops, Pins and Merit Badges. We focus on science, technology, engineering and math (STEM) during our visits. Each event can be customized to meet the needs of your troop.
Are you celebrating the anniversary of Scouting with a Blue and Gold Banquet? Our Spectacular Science Show is perfect for the event. We offer an interactive program featuring Explosions, Chemical Reactions and Hair-Raising Experiments. Contact us to make your event Spectacular!
Our programs get your troops excited about science while earning their badges! We provide all the learning materials. All we ask of you is to provide the location!
Our current Scout programs include:
Spectacular Interactive Science Show
Multiple themes to choose from,
Have us come once or many times!
Add a hands-on experiment like make your own slime, pan for gold, DIY cotton candy and more.
Hands-on science workshop for a Science Pin, Belt Loop and Merit Badges.
Learn about Bernoulli's Principle, Pascal's Law or Newton's laws of motion.
We introduce concepts for the Cub Scout Academics belt loop by including atmospheric, air & water pressure or even rocket launches!
We delve into optical illusions, climate effects, crystals and gravity in our hands-on workshops and our mobile science lab.
Science Club
Have us come regularly and hold a Science Club with either a new concept each time or an in-depth study of on science theme.
Multiple themes to choose from.
Science Activity Ideas for Scouts
Every troop has specific requirements to earn their badge. Here are our favorite activity ideas for Scouts:
The effects of atmospheric and air and water pressure.
Build and launch a model rocket.
Learn about and make fog and/or crystals.
Learn about gravity and do balance experiments
Learn about optical illusion through hands-on science experiments.
Make a simple electric motor that works.
Learn about erosion and the causes.
Simple Machines hands-on workshop
Solids, Liquid and Gases workshop with experiments.
Learn about and make atoms and molecules.
Geology: ROCKS AND MINERALS
Oceanography
Space: Planets, moon, sun, earth
Weather Workshop
Kitchen Chemistry
Van De Graaff Generator (Static Electricity)
Cartesian Diver Experiment (Density)
Science of Bubble/Dry Ice Experiments
Science of Sport Hands-On Show