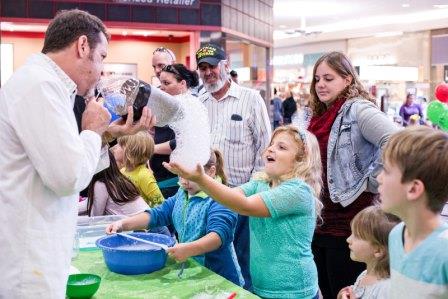 Are you looking for something unique for your special event, fair or festival and are tired of bounce houses and balloon twisters?
Mr. Bond's Science Guys have the answer with our Mobile Science Lab that includes Sensational STEM shows and interactive science booths.
Our edutaining "science presentations" can be the main attraction at your special event or you can choose from our mobile science labs/hands-on booths as an interactive addition to your planned activities. You can also book both to make your event even more exciting!
The Science Guys' present their STEM/STEAM shows and booths at:
Corporate events
Community centers
Fairs
Festivals
Corporate picnics
Mall events
Family STEM or STEAM Nights
And more!
Our science demonstrations can be customized to fit any group size and we will do our best to work within your budget. Contact us to find out more now!
Sensational STEM/STEAM Show
Audience involvement, laughter and science experiments are a part of the package when our crazy scientists demonstrate chemical reactions, explosions and mind-boggling experiments at your special event, fair or, festival.
Our Sensational STEM/STEAM Shows bring kids of all ages and science together for a memorable event! The Science Guy's special events are science-themed shows designed to impress and captivate audiences of all sizes. Children learn about science as they observe optical illusions, experience tornado simulations, create volcanic eruptions, discover Bernoulli's principle, and much more!
Hands-On Science Booths
Mobile Science Lab for kids, teens and adults!
*Include a take home experiment
DIY Booths - Slime, Bouncy Balls, Space Planets, Flubber, Silly Putty*

Cotton Candy Fun - kids can make it themselves or we do it for you!

Pan For Gold - perfect outdoors science activity*

Hair Raising Electricity - Van de Graaff Electro-static Generator creates hair-raising fun. Best indoors and low humidity.

Dry Ice Explosions

The Science of Bubbles

Current Events - Discover electricity with multiple electrical experiments.

Engineering Earth

Catapult Launches

Rainbows and Lasers

Water Absorbing Molecules

Science of Art
Contact Form - Special Events